Liam Loughlin – Team Member
Liam was called to the Bar in 2008 and is a practising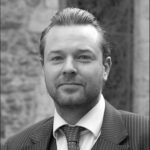 barrister at Church Court Chambers in London where he specialises in serious crime, immigration, prison law, judicial review and human rights.
Liam was the Centre for Capital Punishment Studies' (CCPS) Uganda Mitigation Project Director in 2012 during which time he established a project to assist beneficiaries of the Susan Kigula case.
He also assisted with training lawyers and students more generally in the principles of mitigation and key areas of human rights and wrote criminal evidence guides for lawyers.
Liam remains committed to the work of Evolve in Uganda and continues to assist in its appellate and advisory work.